founding partner at olson kundig, jim olson's cabin at longbranch, washington, has morphed throughout the past few decades from a small bunkhouse into a modest, yet highly livable private retreat. situated between the towering fir trees of the forest, the residence coexists with the surrounding nature through a muted color and material palette, and engages in a constant conversation with it through strategically placed sliding doors, windows, and a domed skylight over the bedroom.
photos by kevin scott and benjamin benschneider
olson first built the cabin almost 60 years ago, while its appearance today is the result of a series of remodels that highlight the structure's architectural history rather than erasing it. the weekend retreat has been developed using simple, readily available materials, such as plywood to frame the walls inside and out, steel columns to support the glulam beams, which support an exposed roof structure, and fir flooring on the interior that transforms into outdoor decking.
the structure incorporates three mature trees that grow through openings in the deck, while one of the three exits through an opening in the roof. large openings visually blend the interiors and exteriors, such as a large window in the living room, which frames views towards the adjoining meadow and the reflective waters of the nearby puget sound. unified by the exposed roof, the two box-shaped rooms that essentially make the cabin create a single form that is grounded onto the hillside.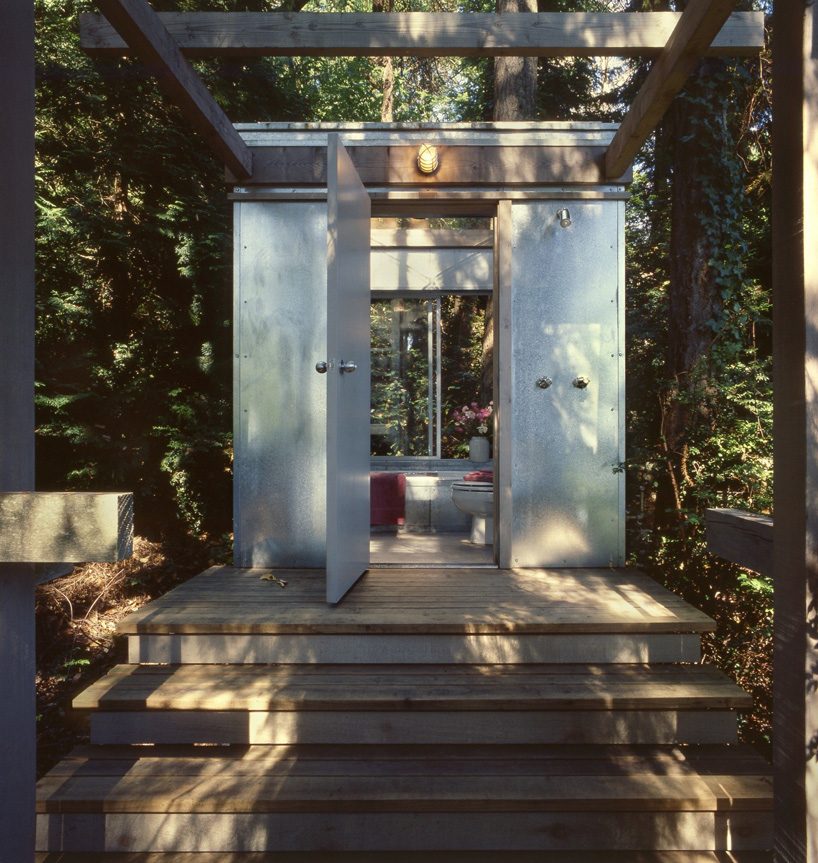 project info:
name: cabin at longbranch
location:  longbranch, washington
architecture firm: olson kundig
design principal: jim olson
project manager: ellen cecil, william franklin
interior designer: charlie hellstern
staff: derek santo